【Bolivia・Kaito Maeshiro】《Introduction of 2021 Okinawan Emigrants' Descendant & Asian Scholarship Student!》
Introduction of 2021 Okinawan Emigrants' Descendant & Asian Scholarship Student!

① Name & age: Kaito Maeshiro, 23
② Birthplace: Bolivia
③ Generation: 3th generation
④ Study at: University of Ryukyu in Okinawa, Japan
⑤ What made you come to study abroad in Okinawa and what do you want to do.
My elder sister and cousin participated in this program and seemed enjoyed it, and I thought it would be a good learning and experience. Also, I wanted to learn more about my hometown, Okinawa, that's why I decided to participate this program.
So, now I've been accepted, I want to study hard, experience as much of Okinawa as I can, make lots of friends, and bring all the things I have learned back to Bolivia to share the beauty of my hometown Okinawa with everyone.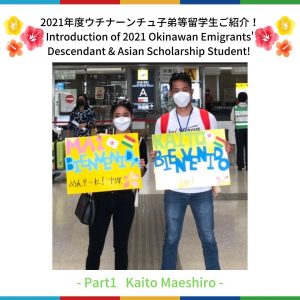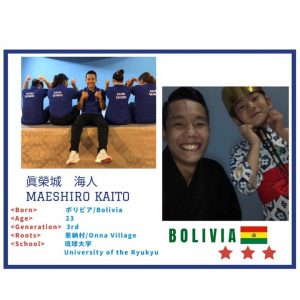 Related Articles