ICHARIBACHODE !! UCHINA Circle Unit
ICHARIBACHODE !!
UCHINA Circle Unit

We broadcast the voices of high school students in Okinawa.
Due to the coronavirus pandemic (COVID-19), people's interaction is highly restricted. Especially, there are many restrictions in South America, hence, Kenjinkai activities are also restricted. 

For these reasons, Okinawan high school teachers and schoolchildren started to make event. "We straight to Okinawa to you". It's time to join hands. Let's overcome the pandemic together. 
Agenda
Greeting
Counting Song
Karate Dance
Sign Language "Place to return"
Dance
Special Guest
CHIMUGUKURU
1st Thursday, 21 October 2021 10:30AM to 11:30AM (JST)
2nd Thursday, 11 November 2021 10:30AM to 11:30AM (JST)
How to participate: Zoom
Application Form: Apply from Google Form
https://forms.gle/wEdQrGx4pKPsttCb7
Presents by Department of Welfare, Okinawa Prefecture Central Agricultural and Forestry High School
Event Management by Okinawa NGO Center
Supported by Capital International, Inc
This event takes place as a Reiwa 3rd Uchina-Network-Support Project.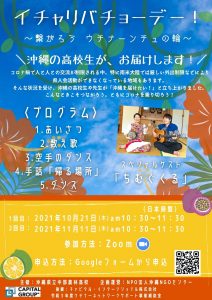 Related Articles