\The 7th Worldwide Uchinanchu Festival Online Caravan (Informational Session)/
\The 7th Worldwide Uchinanchu Festival Online Caravan (Informational Session)/
Haisai, Uchinānchu of the world!
As part of our public relations activities for the 7th Worldwide Uchinānchu Festival that will be held this October, we will hold an online caravan promotional event that includes an overview of the festival, messages from municipalities, and an exchange of opinions.
The Executive Committee Secretariat until now has received inquiries such as "what do we do at the festival?", "what is the current situation in Okinawa?" and many other questions have been sent to the office.
The Online Caravan promotional event will provide you with information and an opportunity to actively consider participating in the festival, including online participation.
If you would like to participate, please fill out the following application form. We sincerely look forward to your participation.

[ Program ]
1-Here are the answers to your questions about the World Uchinanchu Festival.
If you have any questions, please fill out the form.
2-Video Message
3-LIVE


[ Date ]
Sunday, March 6th 4:00pm-6:00pm [West Coast Time]
Sunday, March 6th 2:00pm-4:00pm [Hawaii Time]
Monday, March 7th 9:00am-11:00am [Japan Time]
*Attention: This event will be held only in Japanese and English.

[Registration Form]
*Deadline:Wed, March 2nd

*The online caravan will be held via ZOOM.
ZOOM meeting information will be emailed to you 5 days before the event.

■Online caravan in Portuguese and Jaoanese
Date: Sunday, March 6th, 2022 9:00am-11:00am (Japan time)

■Online caravan in Spanish and Japanese
Date: Sunday, March 13th, 2022 9:00am-11:00am (Japan time)
[Contact]
wuf2022caravan@gmail.com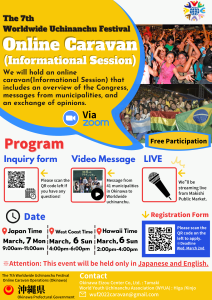 Related Articles