[Zoom]The 7th Worldwide Uchinanchu Festival Online Caravan [English/Japanese]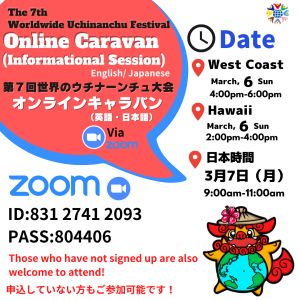 The 7th Worldwide Uchinanchu Festival Online Caravan [English/Japanese]
[Date]
Sun,March 6th 2:00pm-4:00pm [Hawaii Time]
Sun, March 6th 4:00pm-6:00pm [West Coast Time]
Mon, March 7th 9:00am-11:00am [Japan Time]
Those who have not signed up are also welcome to attend!

【Zoom】
ID: 831 2741 2093
Pass: 804406
Please take note of the following 1 through 5. 
1-The event will be conducted using a web conferencing service called Zoom. (https://zoom.us/download) Please prepare a computer or smartphone equipped with a camera, microphone, speakers, etc.                                                                                       
If you are using Zoom for the first time, we recommend that you install Zoom and test the camera and microphone in advance.
2-When entering the room, please have your microphone on mute so the presenter could be heard by everyone (The host may mute those who are not muted.)
3-We will record the event for the secretariat's records. If you do not wish to show your face, you can use the "Stop Video" function to prevent your image from being shown.
4- Please use the "chat" function to send us your "name and question".
5-Friendly reminder to unmute your microphone when speaking through the microphone and mute when finished speaking.
Related Articles