World Youth Uchina Shinka Online with Hawaii and Canada
Wow, is it only in Japan that people eat KFC on Christmas?
Do you know how much KFC is consumed per capita by Okinawans?
What a surprise, they are number one in Japan.

Anshi, Chicken Joegoo yaru!
*Anshi: Wow, So much
*Joegoo: People who like something specific.

Online interacting meeting for Uchinanchu in Okinawa, Hawaii and Canada called "World Youth Uchina Shinka Online with Hawaii and Canada" was held on February 11!

Let's talk about KFC later lol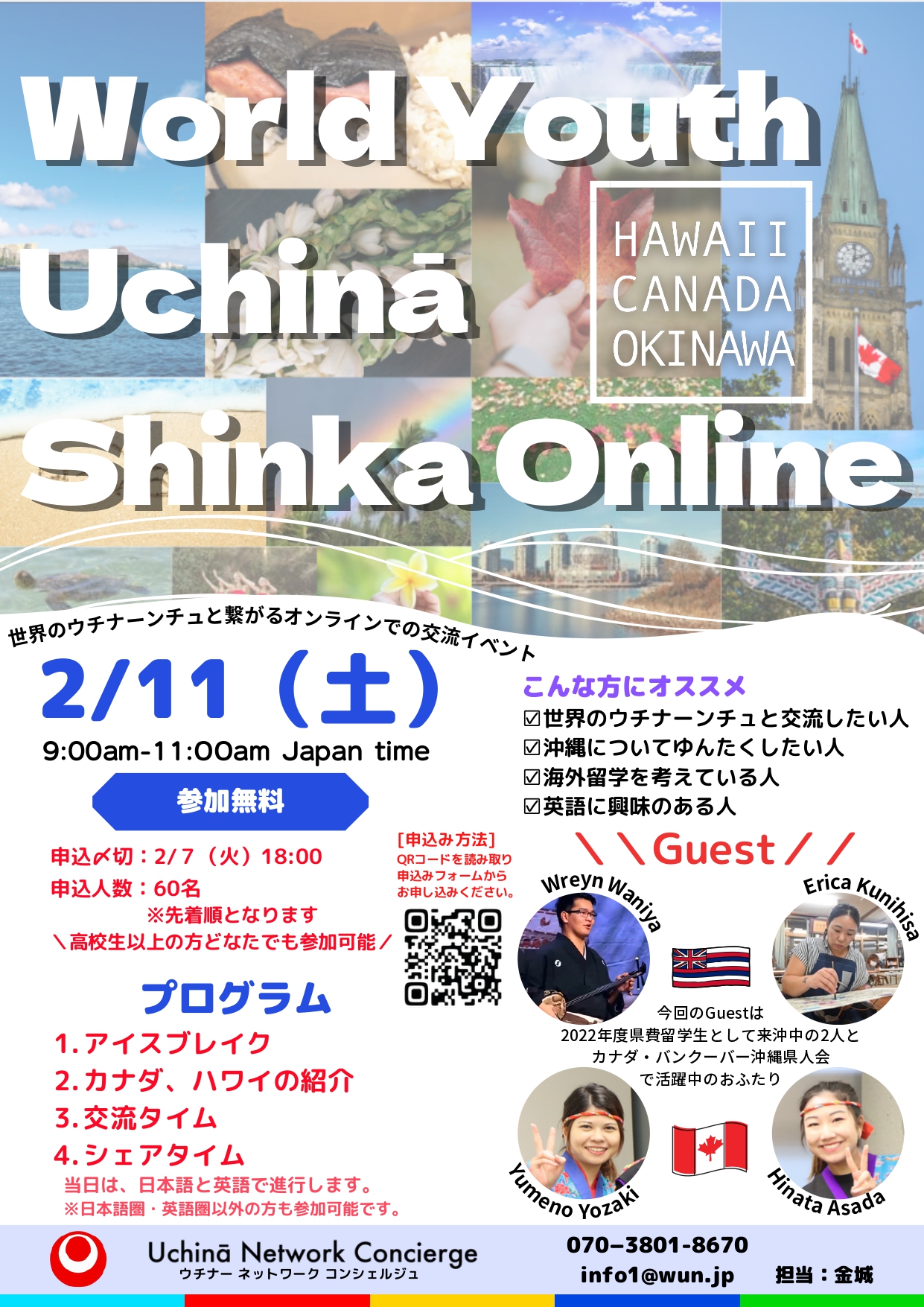 Wreyn Waniya and Erika Kunihisa (both from Hawaii), who are studying in Okinawa, and Hinata Asada from Canada and Yumeno Yozaki who is studying in Canada were asked to appear as guests.

Asada and Yozaki who are currently active in the Vancouver Okinawa Fraternity, talked about their activities in the Okinawa community and their thoughts on Okinawa.

Asada told us that it was the opportunity to participate in the Uchinanchu Junior Study and meet other Uchinanchu of her generation that made her fall in love with Okinawa even more and helped her find her Uchina identity.

She also declared that she would like to Challenge study abroad at Okinawa as Kempi exchange student, and become active as a Uchinanchu in the world.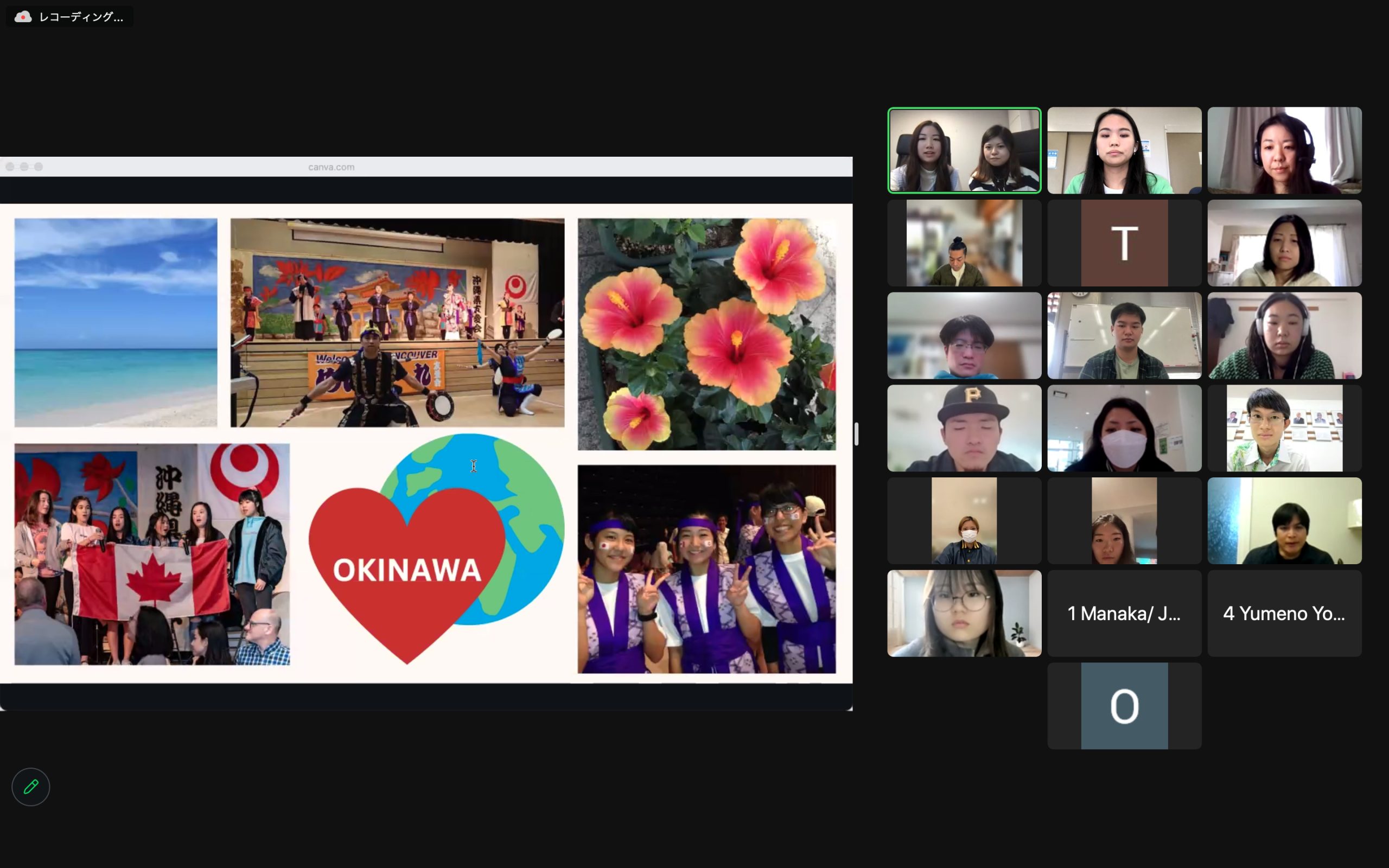 On the other hand,  Yozaki was exposed to Eisa and Sanshin culture when she met Asada in Canada.
She said that she would like to think about the history and future of Okinawa through these people.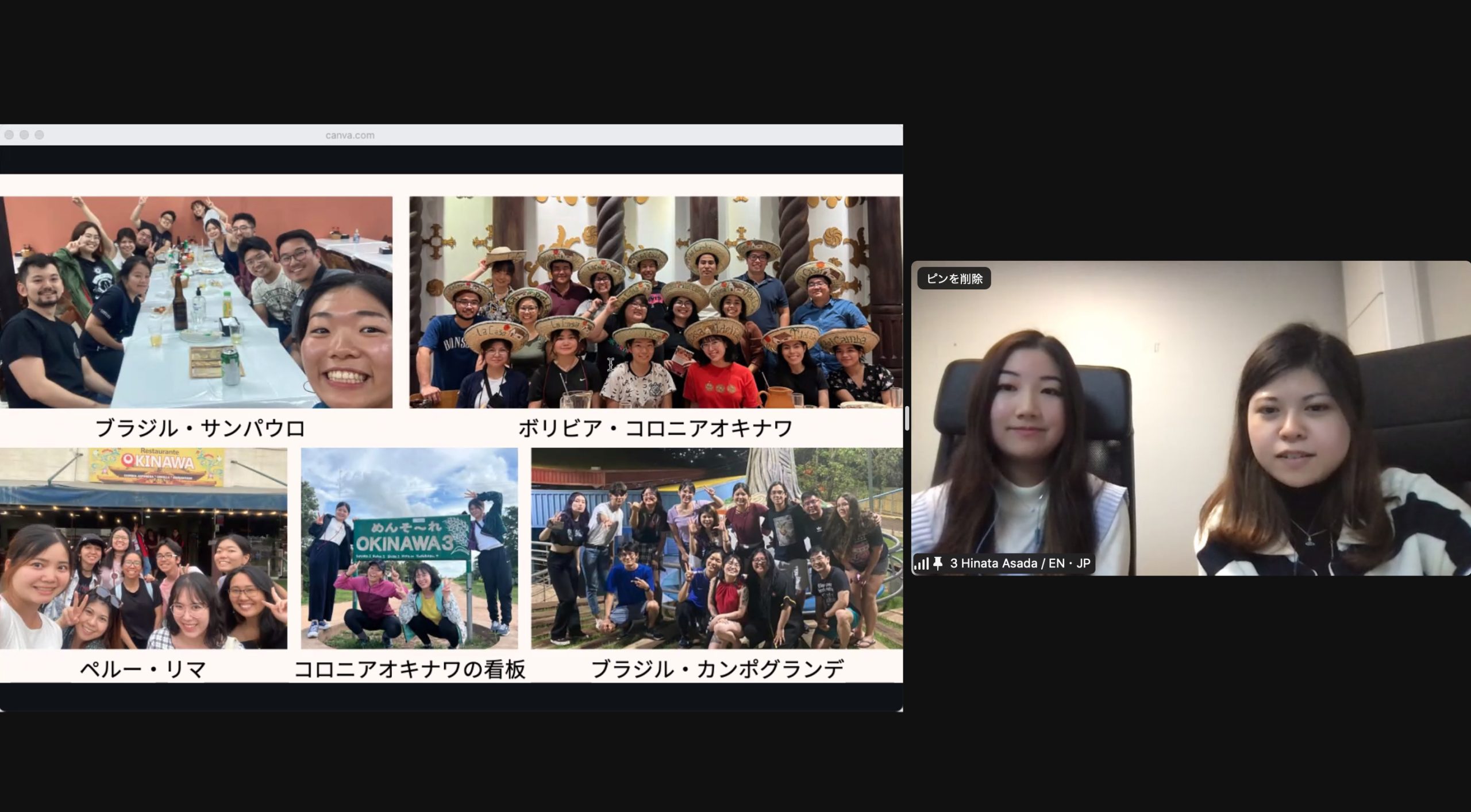 The bond between the two and their love for the Uchina Network got us tear-eyed the whole time!

Next is two students from Hawaii who are currently studying in Okinawa as Kempi exchange students! They've been in Okinawa since September, and five months have already passed. They will return home next month.
We asked real their opinions about the differences between Okinawa and Hawaii, and about Kempi exchange program!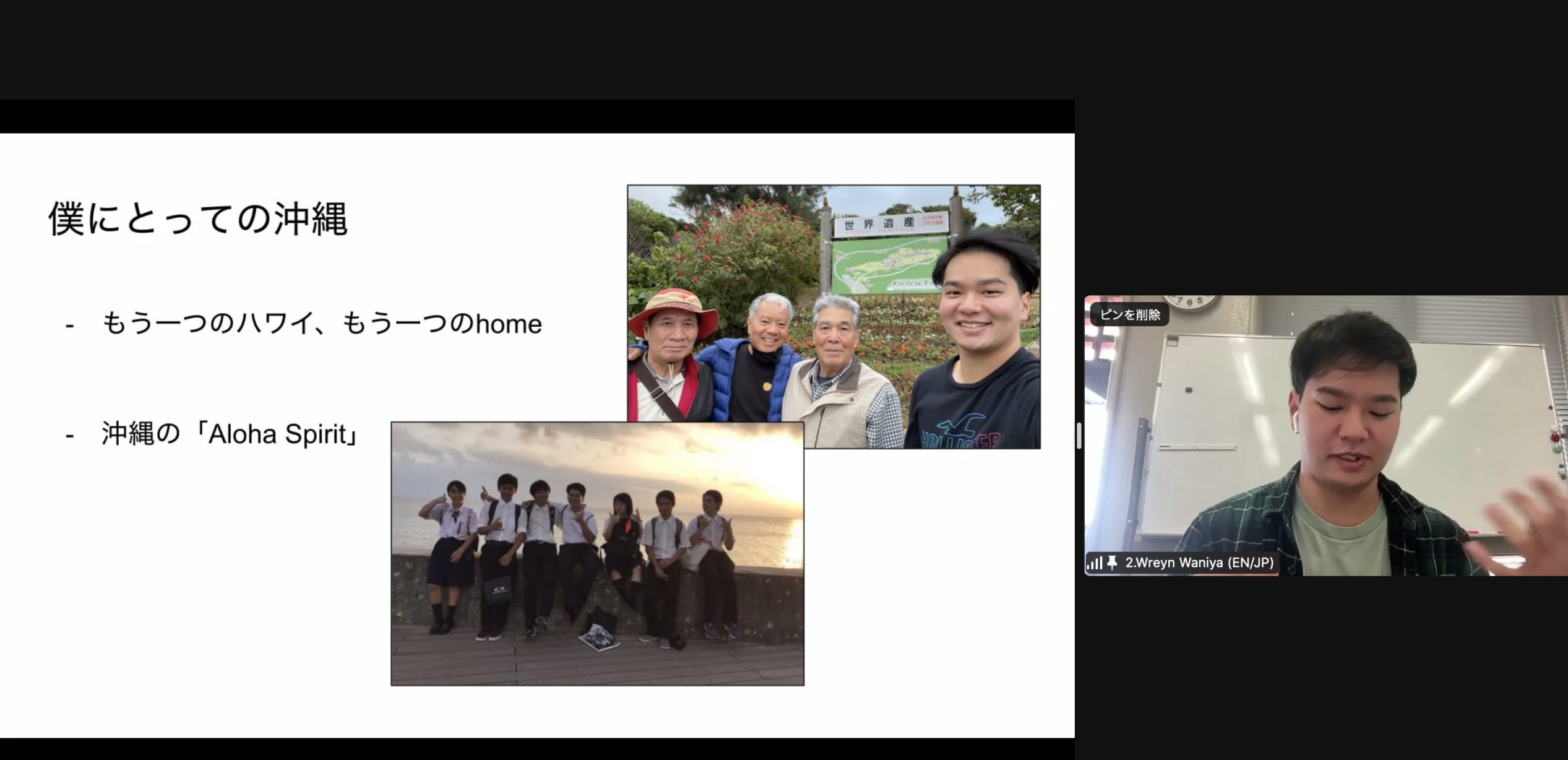 Our first guest was. Wreyn Waniya, a 4th generation Hawaiian descendant (currently studying at Okinawa Prefectural University of Arts). His mother advised him to start learning the Okinawan Sanshin. He has been working hard on his Sanshin in Hawaii and is also now studying Sanshin, etc. here in Okinawa.

He belongs to the Hawaii Okinawa Association.
It has 45,000 members!
That's more than Nanjo City's population of 42,000!
What a surprise, the city and town's associations are also very active.

According to Wreyn, The strength of Okinawan Chimugukuru is like the Aloha spirit of Hawaii. He also shared his thoughts on Okinawa at the end of his talk that he's very grateful to the people of Okinawa for always making me feel welcome.

During my stay in Hawaii, I was also helped a lot by the aloha spirit of the Uchinanchu of Hawaii, and it touched my heart.

Next was Erika Kunihisa, a 4th generation Hawaiian descendant (currently training in Ryukyu Bingata).

She said that it was only after she left Hawaii and went to the U.S. mainland, she was made aware of the how size of the Uchina network in Hawaii is.

She also said that after returning to the U.S., she would like to do a Bingata workshop using what she learned as a Kempi student.
All of you Uchinanchu in North America, I hope you'll join her workshop!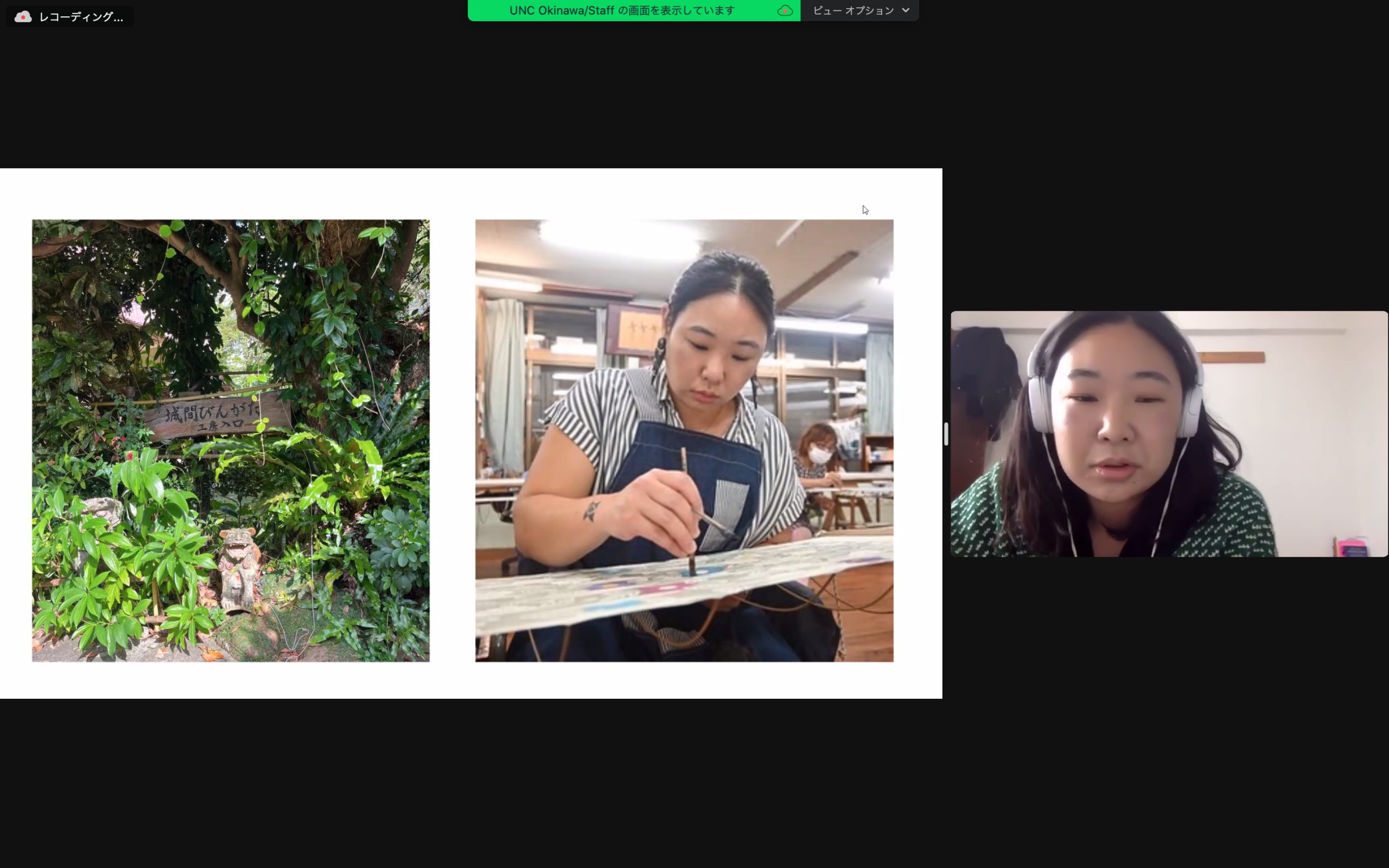 Erica has a podcast where she talks about Okinawan identity, Bingata, and more.
Please, Check it out!
<Shimanchupodcast>

The next was interacting time with all participants.

In the first, the theme was"Let's talk about each other's culture and customs." and the second was "Let's think about what we can do for Uchinanchu and Uchina network in all over the world.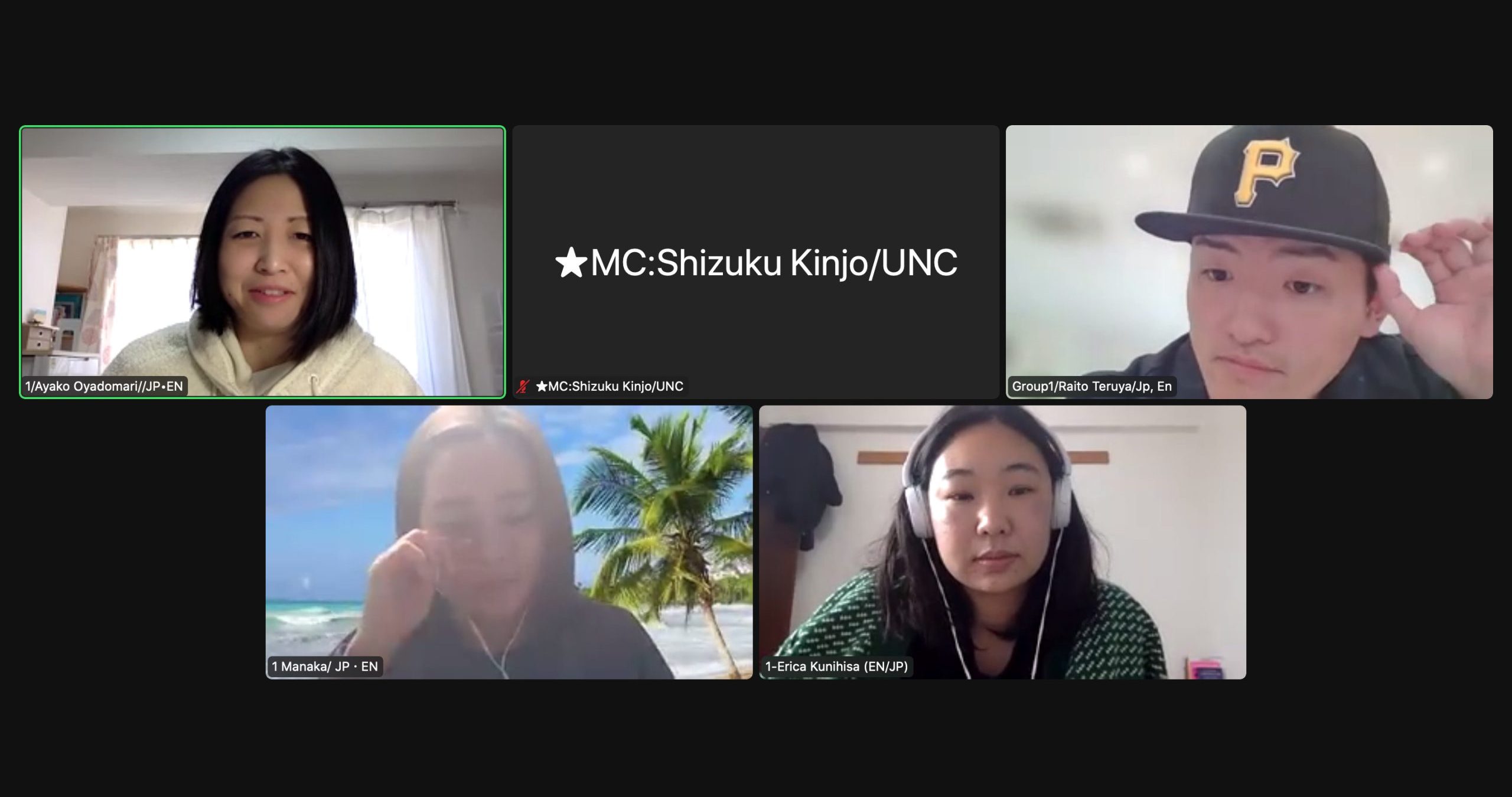 In the first theme, we had a great time talking about Christmas!
It seemed only in Japan do people eat KFC, and people in the U.S. and Canada often eat beef instead.
And what a reason for the Japanese to eat KFC was due to its marketing strategy!

We've been talking about chicken, But of course we also talked about the Uchina Network!

Some said they would like to plan events to connect Okinawa with overseas countries, and others said it would be good if a system that would allow foreign students to contact us easily to resolve their concerns.

Through this event, we hope that as many participants as possible will become interested in Uchinanchu around the world and become friends who will help to make the Uchina network more active.
We are looking for your ideas!
"I wanna hold an event about 〇〇!"
Please send such requests to our Instagram DM.
https://www.instagram.com/w.u.n.1030/


Once again, thank you all for your participation.
Nifeedee bitan!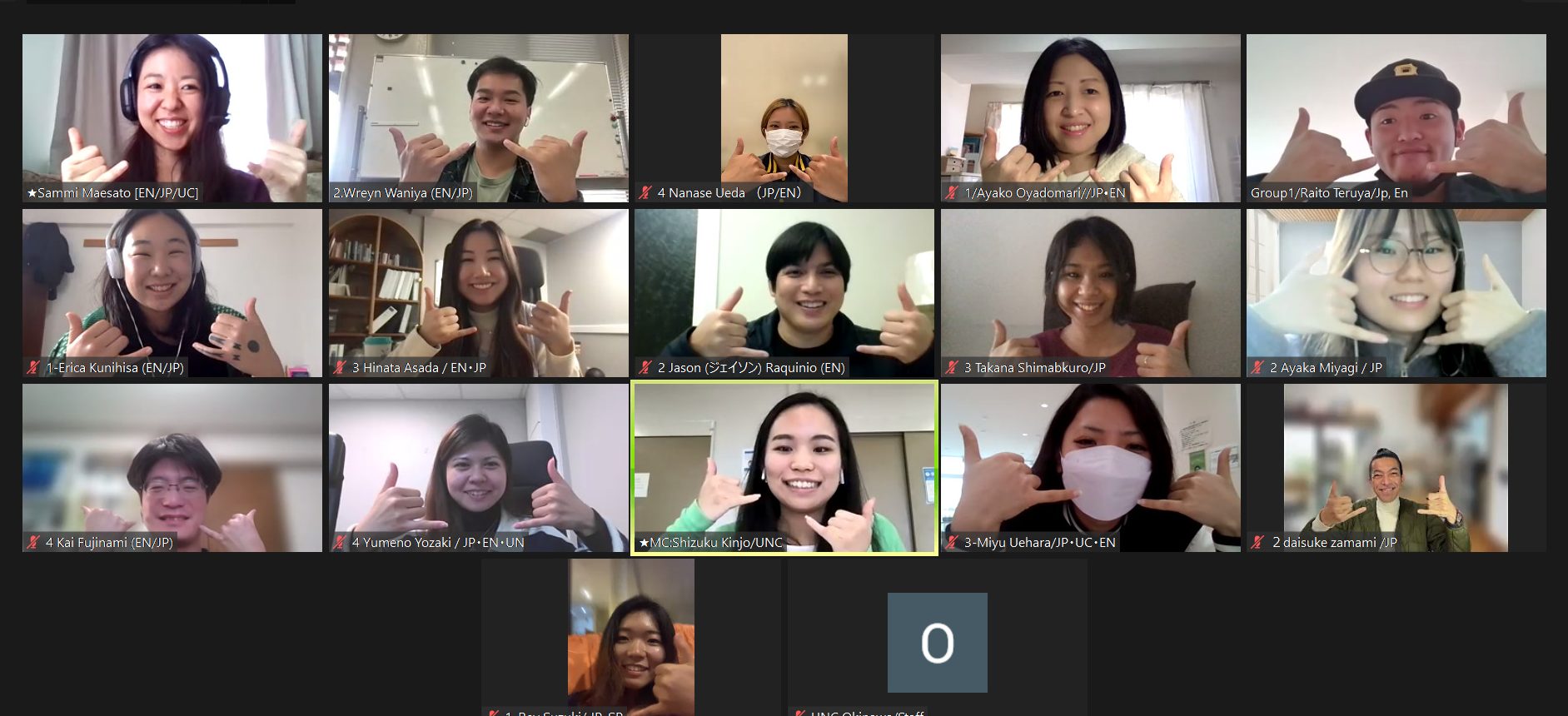 Guests:
[Hawaii]
2022 Okinawa Kempi exchange student
Wreyn Waniya, Training at Okinawa Prefectural University of Arts
Erica Morgan, Training at Shiroma Bingata Workshop

[Canada]
Hinata Asada, The University of British Columbia
Yumemo Yozaki, Yokohama City University Studying in Canada

[English interpreter]
Samantha Maesato, Hawaiian Okinawan descent, 4th generation

Article Contributors
Kinjo UNC
Related Articles