[Uchina Junior Study 2022] 3rd Learning Program ~Final day~
From August 1st to 6th, the Junista 2022 training camp program was held.
Since overseas participants participated online, we held an online program in the morning (overseas evening hours) and a face-to-face program for domestic participants only in the afternoon.


\ 6th day, report session /
On the last day of the training camp, it's finally time for the debriefing session! Early in the morning, I left the Nago Youth House and headed to the JICA Okinawa Center. This time, it was held in a hybrid format with multilingual interpretation so that overseas Kenjinkai members can also participate.
At the opening of the debriefing session, the participants sang "Junista's Flower" in the program, and the representatives reported on Junista's activities . ] was announced. The participants gave presentations with a quality that was hard to believe they had made in such a short period of time.
Finally, the event ended with the screening of a movie created by the participants. At the end of the video, it feels like the words "Let's meet again someday!" were filled with all my thoughts. Due to the corona crisis, overseas participants have to participate online, but we will definitely meet someday! ! Ichariba Chode, everyone I meet is my brother. I hope you will continue to cherish the connections you have made at Junista. Thank you all for your hard work! Also, let's do our best for the 4th program ~!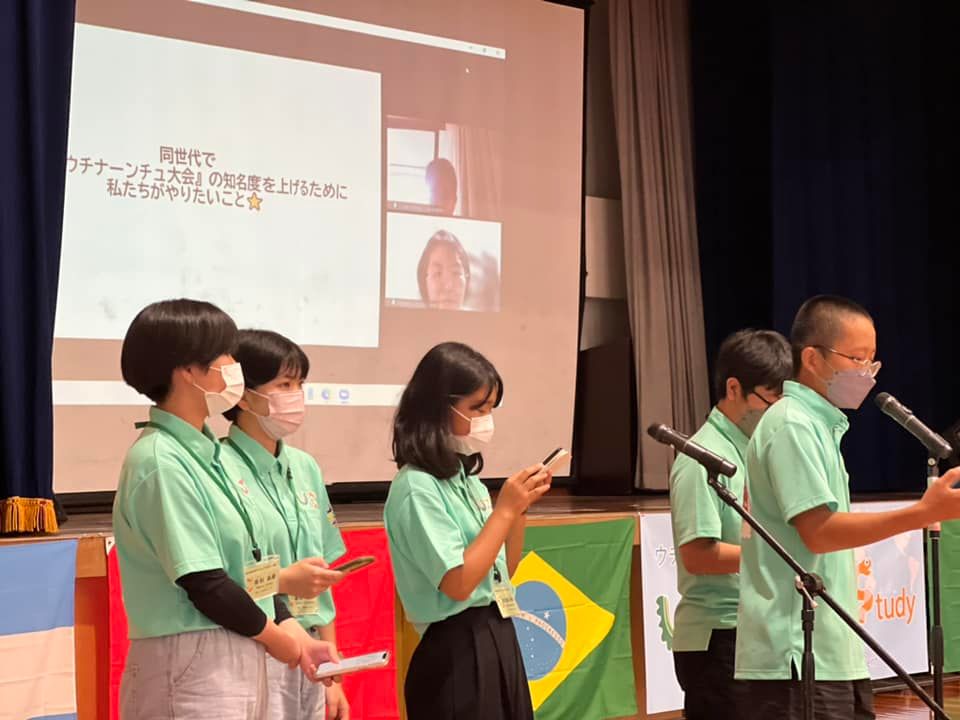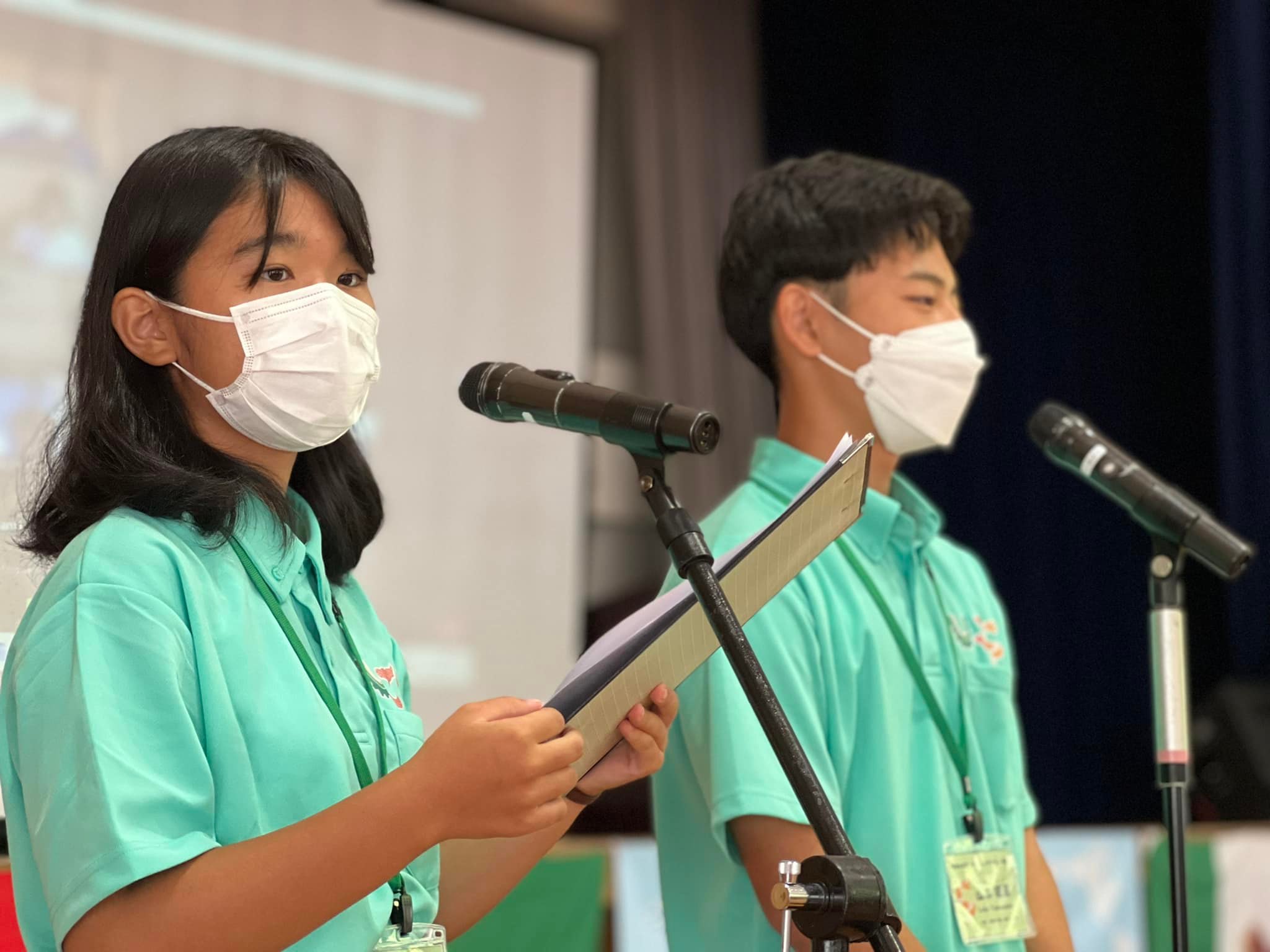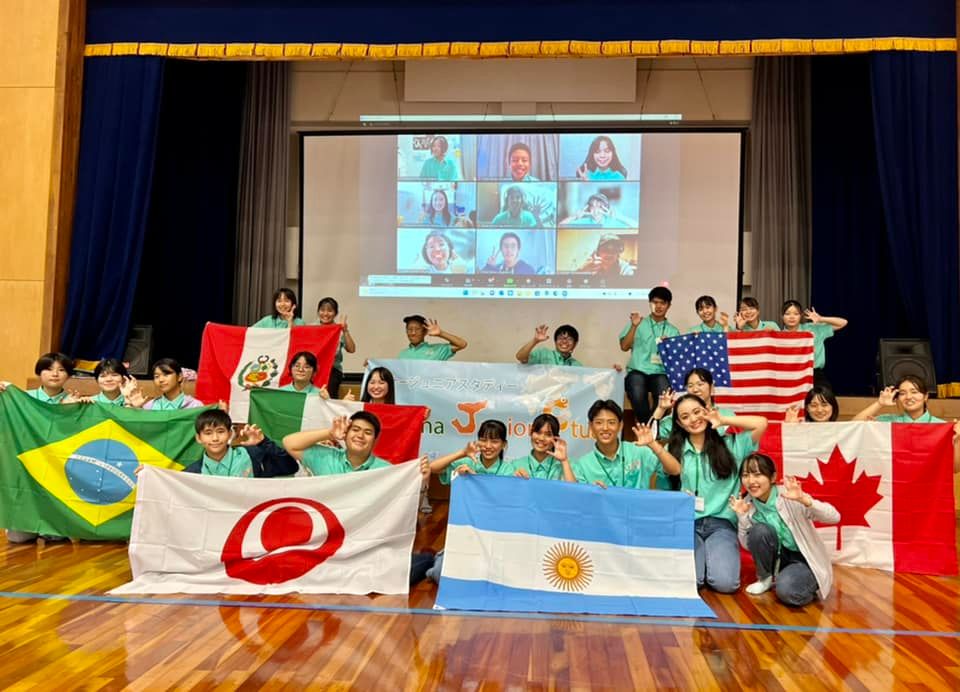 \Participant impressions (partial introduction)/
Akane
The most memorable event for me was the campfire on the fifth night. It was a lot of fun to be able to sing songs while folding shoulders . Before the training started , I was worried whether I would be able to do well, but when everyone sang together, I said, "I'm glad I was able to participate here," and it turned out to be a memorable summer. Through the training, I was able to reconfirm my roots and grow while receiving a lot of learning and stimulation .
Yuuto
I thought that this training camp was a good opportunity for the participants to get to know each other better.
Skill Champloo naturally increased conversations by seeing and hearing unique special skills.
In the rope work, we had a lot of fun playing a game using strings while talking to each other and making a tent using a blue sheet.
On the Urasoe Castle Ruins Attachment Walk, we were able to discuss in groups, share the work and listen to the guide's story, and use all five senses to feel Okinawa.
After experiencing Sanban and Ryuka, they actually worked together to write Ryuka lyrics and felt a sense of unity as they sang.In the evenings, we all got together to practice our presentations and chatted.
Yayoi
On the fifth day, we prepared for the debriefing session on the final day.
Our group was not good at expressing opinions and taking action, so it became more common for one person to take on work, which led to misunderstandings. As much as I had fun doing activities for the past 5 days, I was running away from troublesome things and things I was not good at. I rented a room until I went to bed at night, and we had a conflict by talking openly. However , at that point, we were able to express our true feelings, and our relationship deepened further, and we became friends who will continue to work hard together, rather than group members or friends . If it weren't for this clash, I still think we would have ended up with just a fun group. I thought it was important not only to have fun, but also to not run away from things I didn't like, to express my own opinions to others and to be accepted.
Through this entire training camp, I felt that there were still many things I didn't know about Okinawa, and I wanted others to know more about Okinawa's history, immigration, art, and the warmth of its people.
Also, during the short six-day training camp, the Junista members are irreplaceable to me. As we continue our activities in the future, we may share our opinions and take them into account and make mistakes as to which is the best for Okinawa in the future . I am grateful that I was able to meet this member and this business that let me meet.
And we would like people who love Okinawa like us, people who are even slightly interested in Okinawa, Uchinanchu, etc. to participate in this kind of project.
―――――――――――――――――――――
 What is the Uchina Junior Study Project?
This project is carried out from June to October!
In this project, domestic junior and senior high school students interact with the children of overseas immigrants of the same generation,
This is a program to learn the history, culture and nature of Okinawa.
Through this experience, along with creating strong bonds between participants,
Deepen understanding of Okinawa, the hometown of children of overseas immigrants,
For students in the prefecture, by broadening their international perspectives,
Its purpose is to nurture young people who will lead the world's Uchina network.
 Every year, we came to Okinawa and held face-to-face,
This year, it will be held in a hybrid format of online and face-to-face.
This time, a total of 33 people participated: 2 from outside the prefecture, 1 from a remote island, 20 from within the prefecture, and 10 from overseas.
On the official website "World Uchina Network" operated by Okinawa Prefecture,
Please take a look at our program report.
\Junista 2022 activity report/
🥚 1st study program
Day 1 https://wun.jp/blog/archives/5147
Day 2 https://wun.jp/blog/archives/5169
🐣Second study program
Day 1 https://wun.jp/blog/archives/5232
Day 2 https://wun.jp/blog/archives/5247
Organizer: Okinawa Prefecture
Contact: JOCA Okinawa, WYUA, Tobu Top Tours
Related Articles