[Uchina Junior Study 2022] 3rd Learning Program ~Day3-5~
From August 1st to 6th, the Junista 2022 training camp program was held.
Since overseas participants participated online, we held an online program in the morning (overseas evening hours) and a face-to-face program for domestic participants only in the afternoon.


\ 3rd day /
In the morning, the Okinawa Prefectural Museum and Art Museum invited Ms. Miyagi, a museum curator, as a lecturer to learn about the 50th anniversary of the return to Okinawa. After learning about post-war Okinawa - U.S. military rule - reversion movement - reversion - post-reversion Okinawa, we had a group discussion about what we want to leave behind in Okinawa 50 years from now.
In the afternoon, we were divided into teams and took a walk around the new city center.
It is a time to learn about how the new city center, which was a fierce battlefield, was rebuilt as a city center until now, and to think about peace together.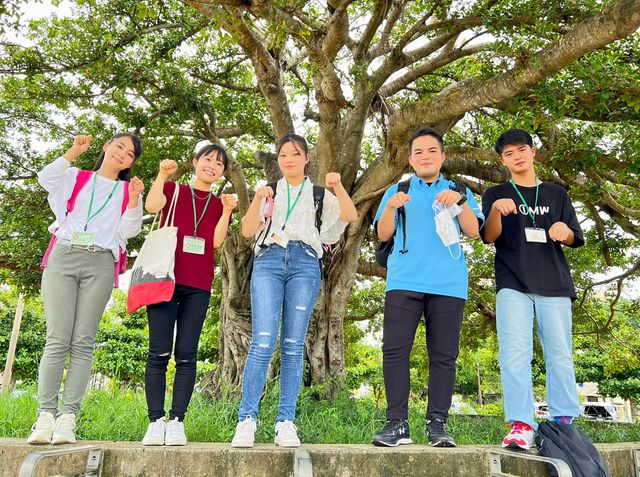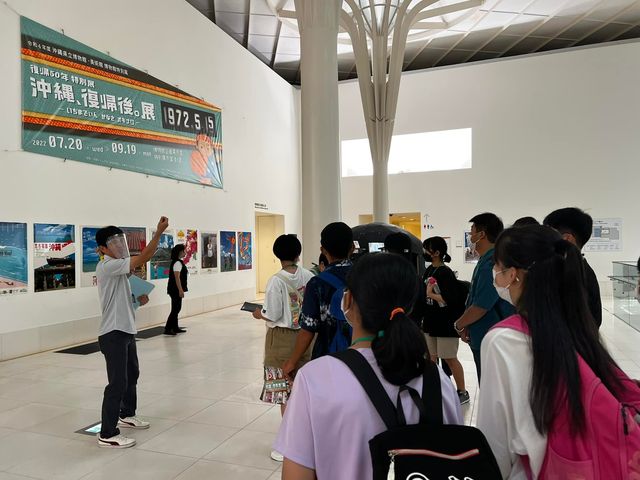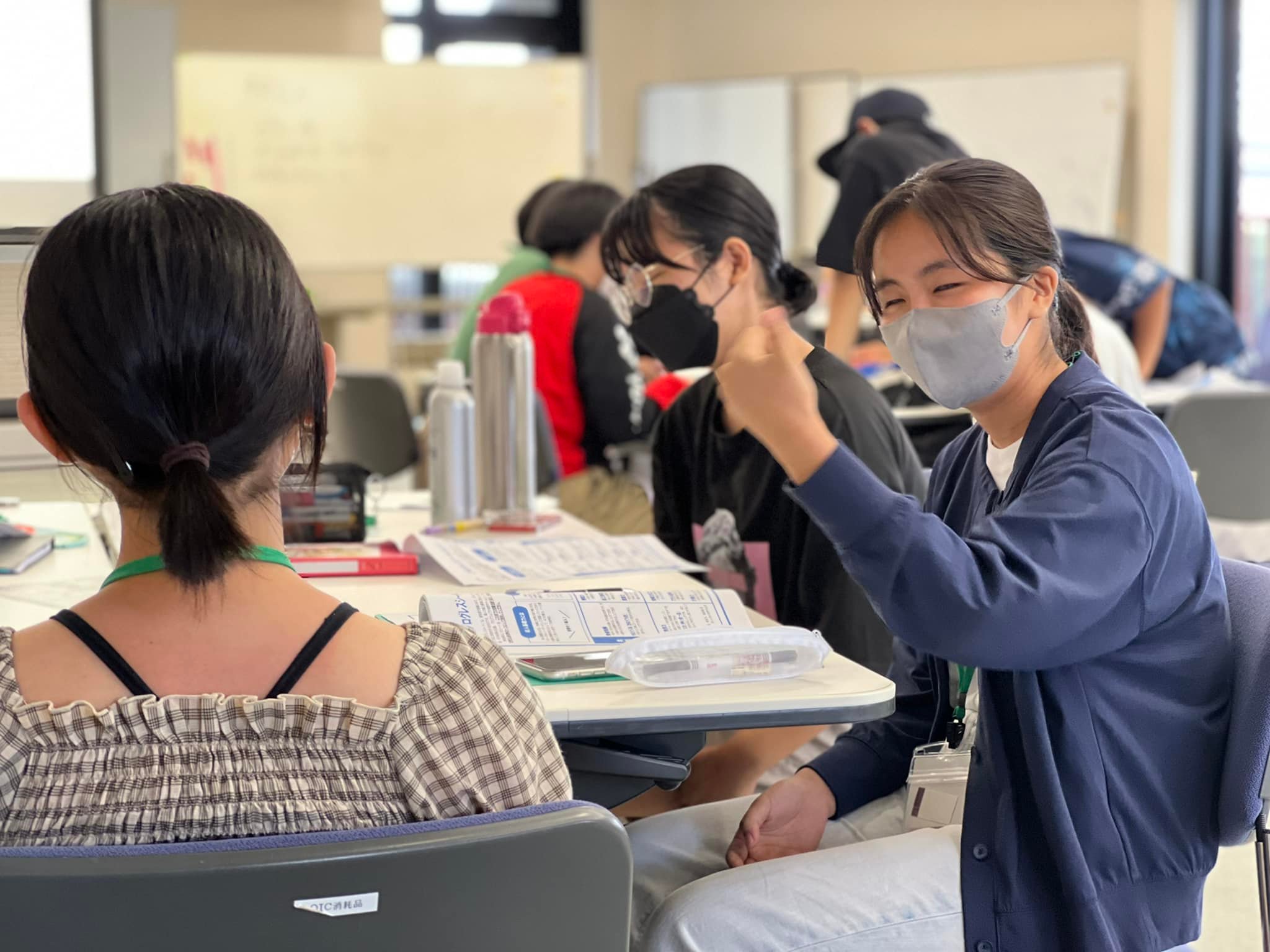 \ Day 4 /
In the morning, we invited Mr. Shinichi Wada, who is active both inside and outside the prefecture, as a lecturer to learn about culture, which was very popular last year as well. We listened to a sanshin performance and experienced sanita and Ryuka making. While coming up with ideas with the overseas participants of each group, we created Ryuka poems 8, 8, 8, and 6 under the theme of "Junior study  2022." At the end, both overseas and domestic participants sang "Junior study's Flower" while playing sanita together.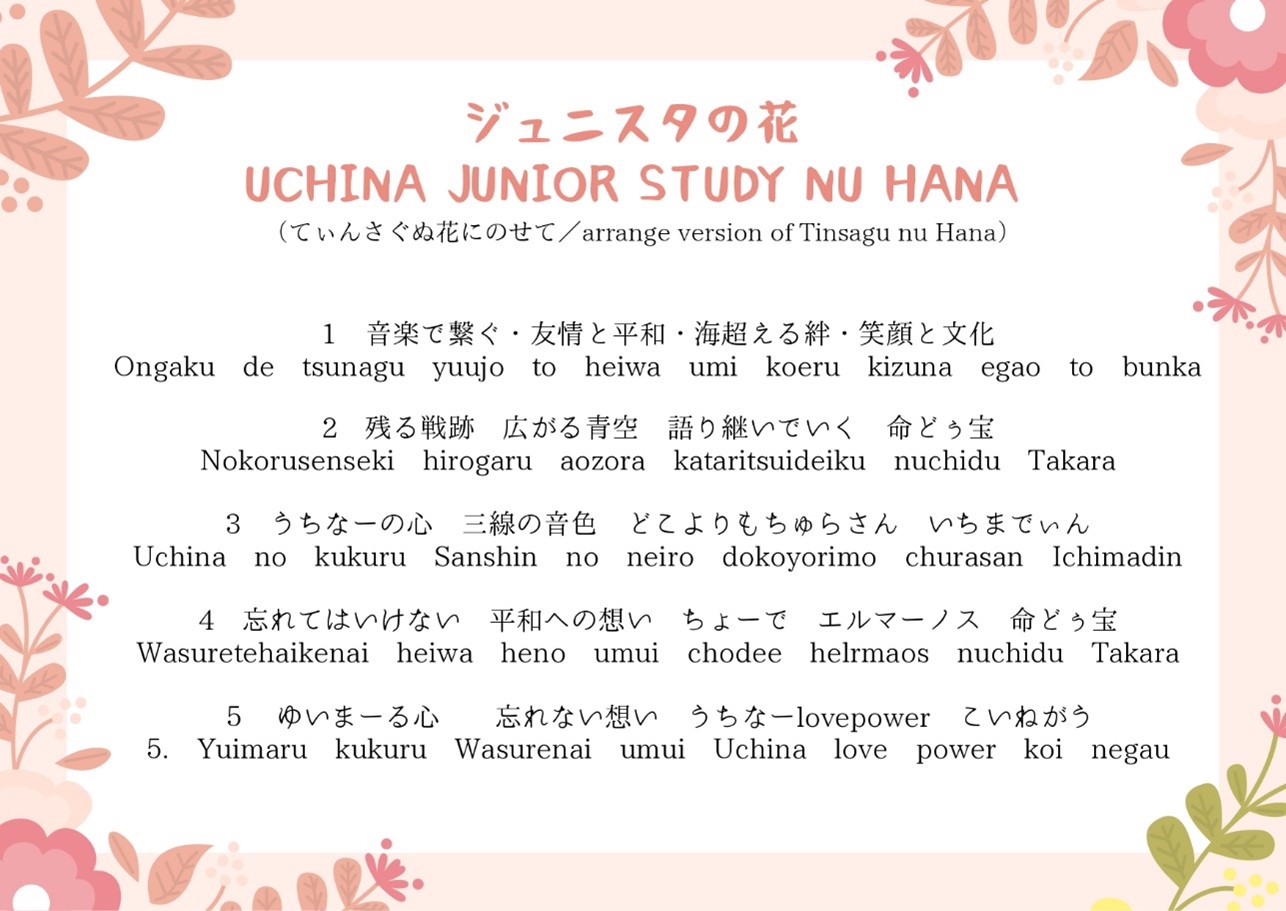 In the afternoon, we will move to Koza town for a multicultural coexistence workshop. Just as many Uchinanchu migrated overseas from Okinawa in the past, there are many foreigners living in Koza who have migrated from overseas. There are also many international students and technical interns.
Just as many Uchinanchu from Okinawa used to go abroad, now there are many foreign students and technical interns in Okinawa. Each of us thought about what we could do specifically to coexist with them in Okinawa and exchanged opinions, deepening our learning about multicultural coexistence from immigrants.
After Koza, I went north to Kin town. I visited the memorial hall of Kyuzo Toyama, who is known as the "Father of Immigration." Guided by Ms. Ajifu,  the Kin town office, we learned about his achievements and his ongoing exchanges with his new home.
After leaving the Toyama Kyuzo Memorial Museum, we headed further north toward Nago. I stayed at Nago Youth House.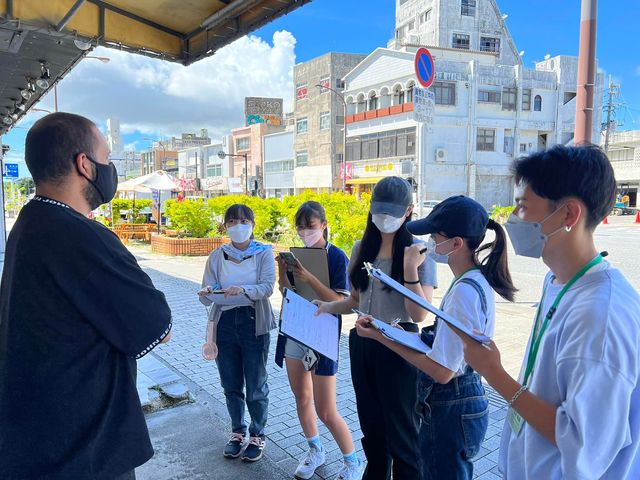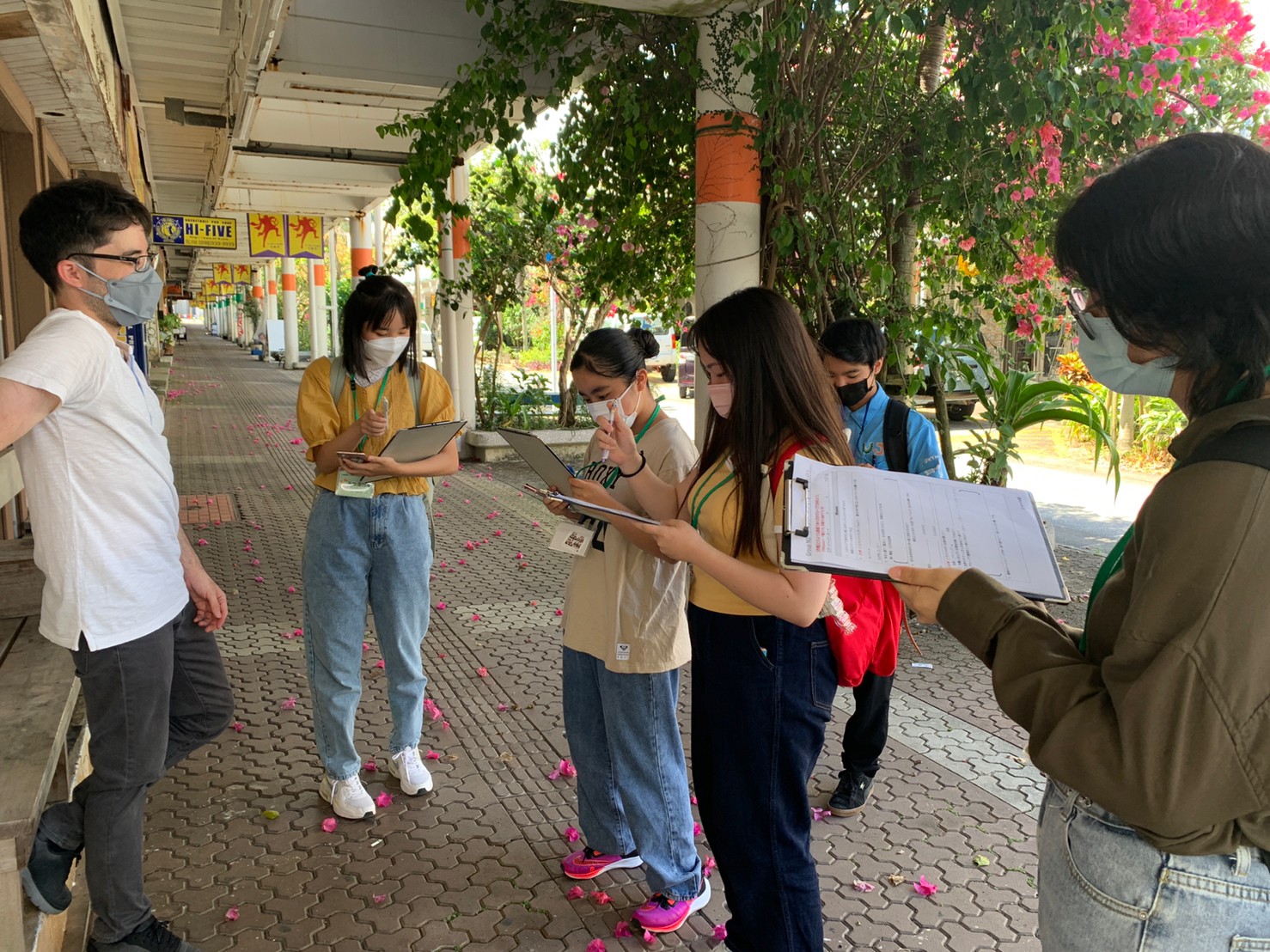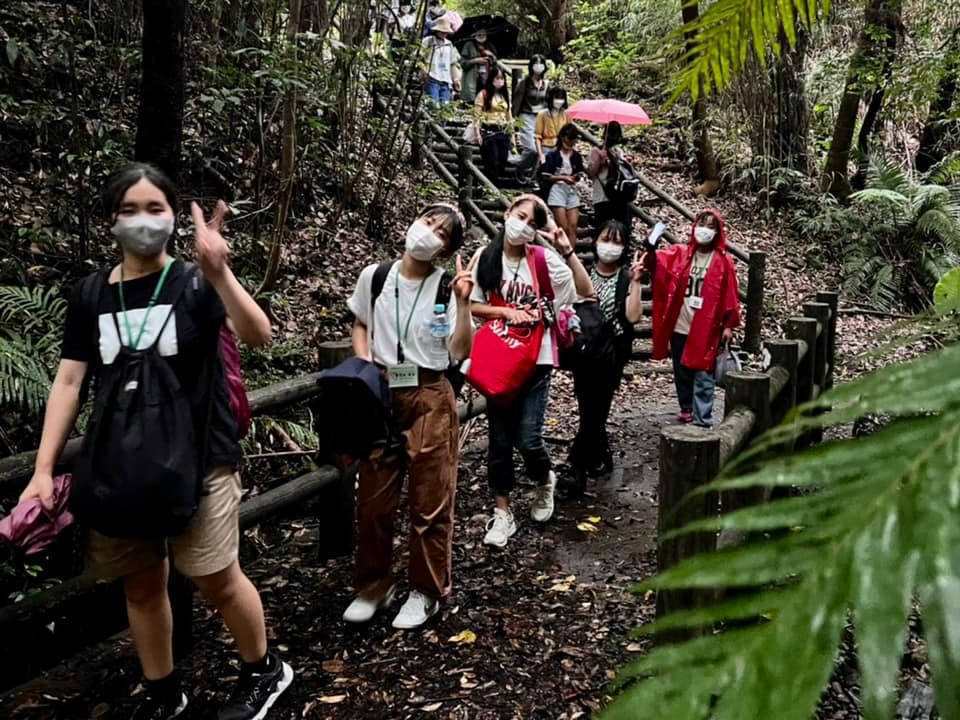 Day 5 /
In the morning of Nago, we did radio exercises to the music of Uchinaguchi Version.
the morning, we completed the presentation of the action plan , and at the end, we had a rehearsal for the debriefing session.
In the afternoon, we returned to the Youth House and trekked Mt. Nago.
On the last night of the camp, we had a campfire. Surrounding the fire, everyone danced and sang folk dances. At the end, everyone formed a circle and got fired up for the debriefing session the next day.
In the evening, each group makes final preparations for the results presentation. There was a group that deepened exchanges with overseas participants by connecting them via videophone, and a team that deepened their ties through heart-to-heart discussions, shedding tears.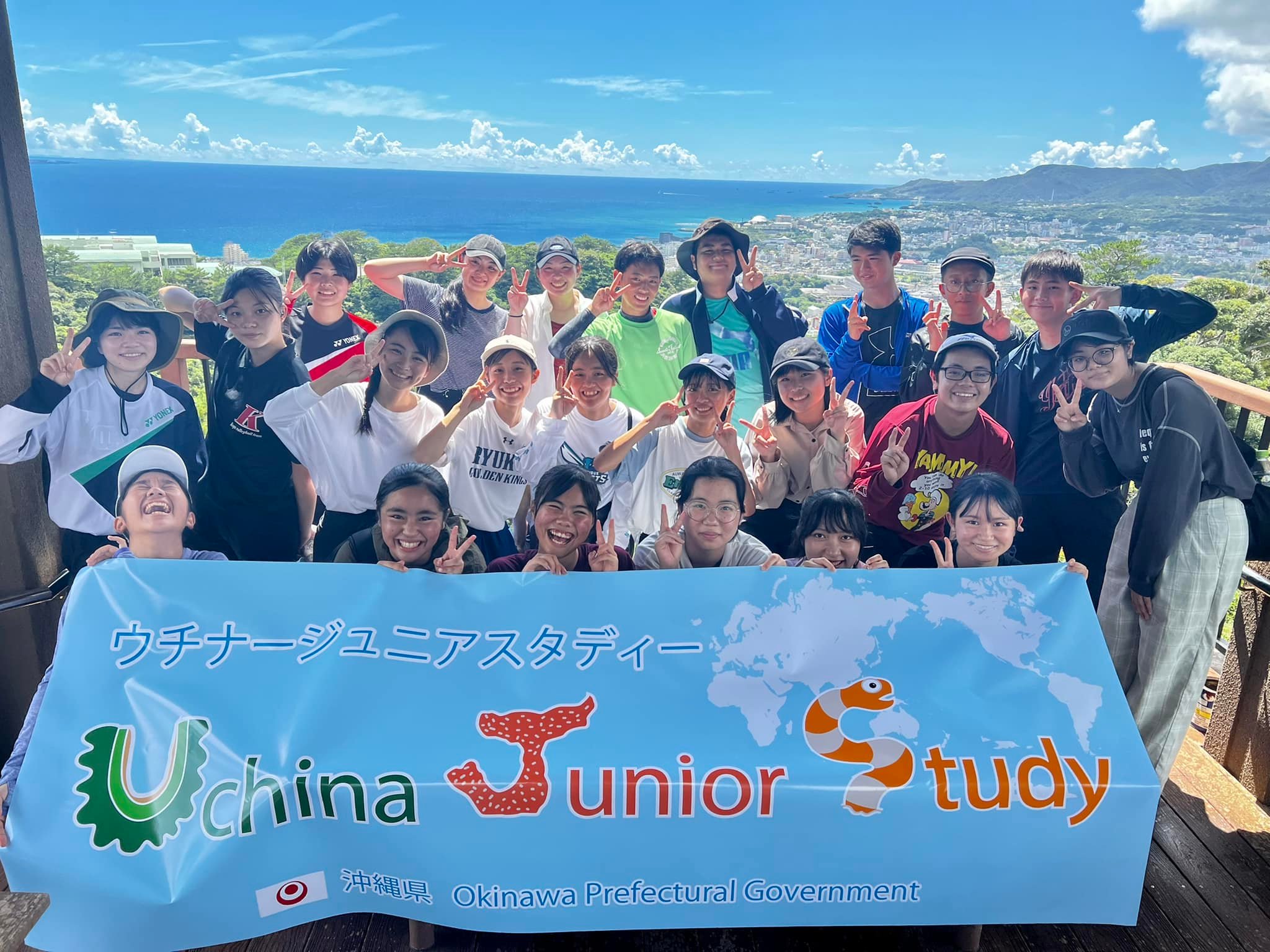 ―――――――――――――――――――――
 What is the Uchina Junior Study Project?
This project is carried out from June to October!
In this project, domestic junior and senior high school students interact with the children of overseas immigrants of the same generation,
This is a program to learn the history, culture and nature of Okinawa.
Through this experience, along with creating strong bonds between participants,
Deepen understanding of Okinawa, the hometown of children of overseas immigrants,
For students in the prefecture, by broadening their international perspectives,
Its purpose is to nurture young people who will lead the world's Uchina network.
 Every year, we came to Okinawa and held face-to-face,
This year, it will be held in a hybrid format of online and face-to-face.
This time, a total of 33 people participated: 2 from outside the prefecture, 1 from a remote island, 20 from within the prefecture, and 10 from overseas.
On the official website "World Uchina Network" operated by Okinawa Prefecture,
Please take a look at our program report.
\Junista 2022 activity report/
🥚 1st study program
Day 1 https://wun.jp/blog/archives/5147
Day 2 https://wun.jp/blog/archives/5169
🐣Second study program
Day 1 https://wun.jp/blog/archives/5232
Day 2 https://wun.jp/blog/archives/5247
Organizer: Okinawa Prefecture
Contact: JOCA Okinawa, WYUA, Tobu Top Tours
Related Articles